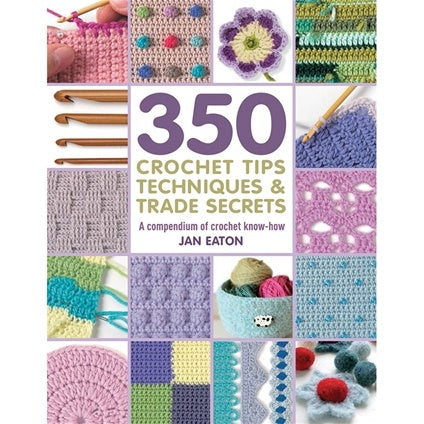 Book - 350 Crochet Tips, Techniques & Trade Secrets, by Jan Eaton
$38.00 NZD
Give a professional finish to your crocheted garments and accessories with this indispensible compendium of crochet know-how. Over 350 tips, techniques and trade secrets are explained and illustrated with clear step by step photographs and diagrams.
This books explains all the techniques you'll need, in the order you'll need them - from choosing the right hook and yarn to looking after your finished garment. Discover how to substitue yarns, accurately estimate the amount you'll need and adapt patterns for the perfect fit.
All stitches are demonstrated, from basic chain stitch to filet crochet, and there is advice on mixing and matching stitches.
You will also find plenty of inspiration for adding an extra-special touch to your work using beaded embellishments and surface crochet.