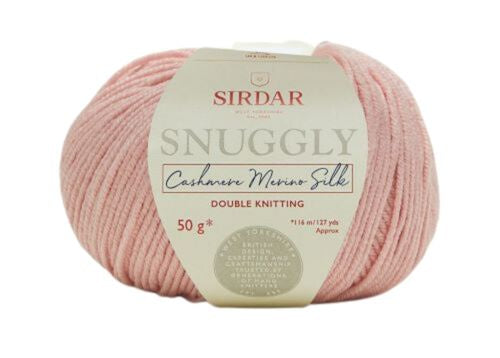 Sirdar 8 Ply Snuggly Cashmere, Merino and Silk
$15.90 NZD
Snuggly Cashmere Merino Silk 8 Ply is an extra special lightweight yarn for your newest arrivals, spun from a blend of soft cashmere, smooth silk and extra fine merino wool. This gentle cosy yarn is kind to delicate baby skin and, because it's machine washable, it's practical too. Choose from a fairy tale inspired palette of baby pastels and modern deeper baby shades.
Incredibly kind to baby, this gentle yarn is a treat for to knit or crochet too. The luxury fibres create such plump soft stitches you'll want to keep knitting or crocheting forever.
Perfect for knitting hand knits and crochet gifts for the tiniest babies. Crisp stitch definition makes colour-work and textured stitches extra special and creates the most gorgeous baby clothes and blankets.
Composition: 75% Extra Fine Merino Wool, 20% Silk, 5% Cashmere
Tension: 10x10cm (4x4") = 28 rows and 22 stitches
Ball weight: 50g
Yarn weight: 8 Ply
Yarn length: 116metres (127yards)
Knitting needle size: 4mm 
Crochet hook size: 4mm 
Washing instructions: Machine washable, do not tumble, dry flat